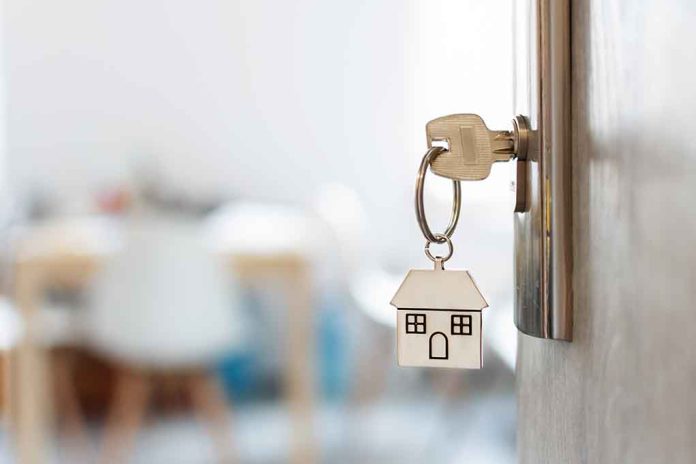 The Secret To Rent-to-Own Property Success Isn't What You Think
(RepublicanDaily.org) – With home prices increasing, securing a home of your own is increasingly challenging. It's nearly impossible for most renters to pay rent and save the required amount for a down payment on a new home — all while improving and preserving a good credit score. Fortunately, there are other options for the perennial renter, including a rent-to-own arrangement.
What is a Rent-To-Own Agreement?
Rent-to-own agreements allow tenants (renters) to rent the property for an outlined amount of time. After that time period elapses, the tenant may buy the house prior to the expiration of the lease. This arrangement is beneficial to both tenants and landlords:
Landlords enjoy a rent-to-own agreement because their tenants are usually steady, pay on time, and won't break the lease. They don't have to expend time or money on finding another tenant every year or two.
Families can get a rent-to-own contract to make sure they like a place before they buy it. They can make a firm decision about the community, schools, and work commute.
As a renter, a tenant doesn't typically acquire equity in the space they're renting. As a tenant in a rent-to-own agreement, the tenant gets equity in the home.
At best, most lenders require a 3.5% down payment on a home, which is hard to get together while still renting. A rent-to-own agreement removes this barrier for many tenants who wish to become homeowners.
If a tenant has a less than "good" credit score and finds it difficult to improve, they may still qualify for a rent-to-own arrangement.
How Do Rent-To-Owns Work?
This type of arrangement involves the tenant paying what is called an "option" fee. While this fee is negotiable, it's typically based on a percentage of the purchase price of the home. For the privilege of having a buy option at the end of the lease, the tenant must pay this fee. It's often reflected in rent, which is slightly higher than they might pay without putting equity into the home. As the renter pays, they accrue credit towards the down payment, allowing them the peace of mind that comes with not having to put down a large down payment sum in the future.
Renters considering a rent-to-own arrangement should know about the lease-option agreement and the lease-purchase agreement, two different agreement options or possibilities:
A lease-option agreement means the landlord isn't permitted to sell the house to another buyer during the term of the lease. This also guarantees the right of the tenant to buy the home after the lease ends. You'll want your lease-option agreement to indicate your right to hire your own independent appraiser (and the landlord should be granted the same. If the tenant doesn't buy their home, they lose any rent credits and option fees.
A lease-purchase agreement includes a specific obligation for the tenant to purchase the home once the lease ends. This applies unless the buyer can't secure a mortgage or there's a contract breach; it reflects both tenant and landlord commitment to the arrangement. While a landlord is typically responsible for maintenance and repairs on a rented property, in a lease-purchase agreement, the tenant takes on that responsibility and cost. This responsibility may extend to homeowner association (HOA) fees and taxes like a local sewer bill.
Whichever path you choose, make sure to hire a qualified real estate attorney licensed in the state of purchase. This person will be responsible for deadline verification, making sure you understand what you are signing, and ensuring the contract is to your benefit. While you may wish to consider a traditional mortgage before a rent-to-own arrangement, this option may be more financially beneficial for you.
Copyright 2023, RepublicanDaily.org