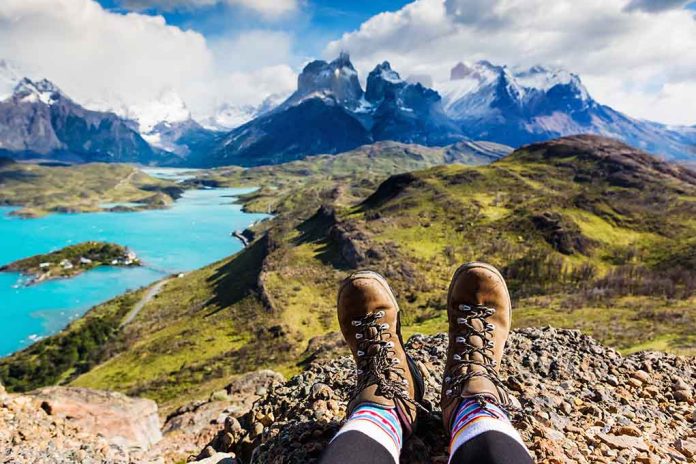 (RepublicanDaily.org) – Hiking is a great way to get outdoors, stay fit, and experience some of what nature has to offer. Luckily for Americans, the United States boasts some of the most breathtaking hiking trails in the world. Here are a few of the most impressive among them, particularly for hikers who like a little excitement on their way.
Located in Glacier National Park in Montana's Rocky Mountains, Huckleberry Trail boasts great views and rugged routes along its 700 miles. People who walk it are treated to views of stunning lakes, melting glaciers, and beautiful meadows. The location isn't for the faint of heart, however. As well as stunning sights, Huckleberry Trail is home to one of the nation's most concentrated populations of grizzly bears. Experts estimate there is a bear for every three square miles in the national park, so hikers who decide to brave the route should be sure to bring bear spray.
These Are The Most Dangerous Hikes In The U.S. (Not For Novice Hikers) #Travel #traveling #travelblogger #vacationmode https://t.co/qkuatB87TY

— TheTravel_com (@TheTravel_com_) August 7, 2022
Alternatively, adventurers who enjoy technically challenging locations should check out Capitol Peak in Colorado's Elk Range. The trail that follows the infamous Knife Edge leads along a ridge with a drop of 1,000 feet on either side. This trail isn't for inexperienced hikers, and it's claimed a number of lives over the years.
People who like the heat might consider walking the Maze in Utah's Canyonlands National Park. Though it's very difficult to reach, it boasts some truly unique scenery. Be warned, though, that the area can reach temperatures of around 110 degrees during the summer.
Would any of these routes tickle your fancy? Reply to your email and let us know. We'd love to hear from you!
Copyright 2022, RepublicanDaily.org