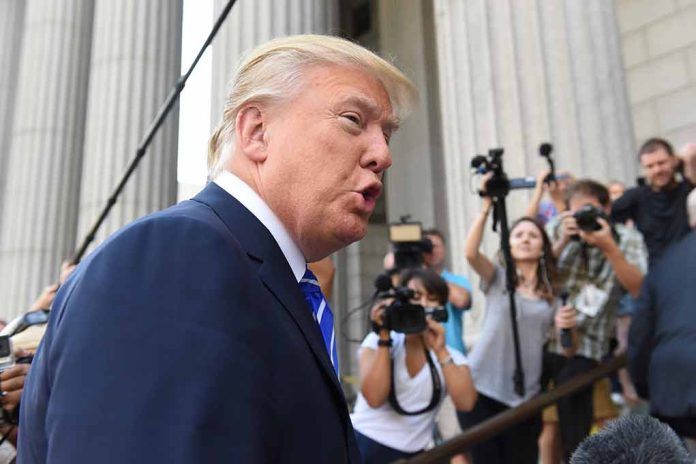 (RepublicanDaily.org) – The legal camp of former president Donald Trump has ostensibly given up on trying to have his Georgia indictment moved to federal court.
The move follows previous statements and insinuations from Trump's legal team that they intended to have the case moved as part of efforts to bring up immunity protections for federal officials, as federal law stipulates that as long as charges against a defendant are related to government service, the criminal case can be moved to federal court.
Trump's indictment in Georgia was filed against him by Fulton County District Attorney Fani Willis. Eighteen other defendants are named in the Georgia indictment, and all have pleaded not guilty to the charges.
The former commander-in-chief's legal team let the deadline to submit the motion to transfer the case pass, with lawyers for Trump saying that their decision to have the case stay in Georgia was based on the belief that the court handling the case would "fully and completely protect" their client's "constitutional right to a fair trial" as well as the proper "due process of law."
The decision also follows the ruling of federal judge Steve Jones which denied four other motions to have the cases of a number of Trump's co-accused moved to federal court, reasoning that among other things, the defendants were not federal officers and were not conducting federal duties at the time stipulated in the complaints against them. The judge also said that Trump's actions, though he was president at the time, were considered "unofficial conduct" and were not related to his duties as head of state. Among the motions denied was that of Mark Meadows, Trump's former chief of staff, but Meadows is currently trying to have the decision reversed through an appeal.
Meanwhile, one of Trump's co-defendants in the Georgia indictment, Scott Hall, has taken a plea deal, and has pleaded guilty to five misdemeanor counts of conspiracy to commit intentional interference with performance of election duties.
Hall served as a Georgia bail bondsman, and was accused of being part of a conspiracy to unlawfully access the voting machines in the state's Coffee County. As part of his deal, Hall will be given probation and he has agreed to testify at the trials of other co-defendants.
Copyright 2023, RepublicanDaily.org