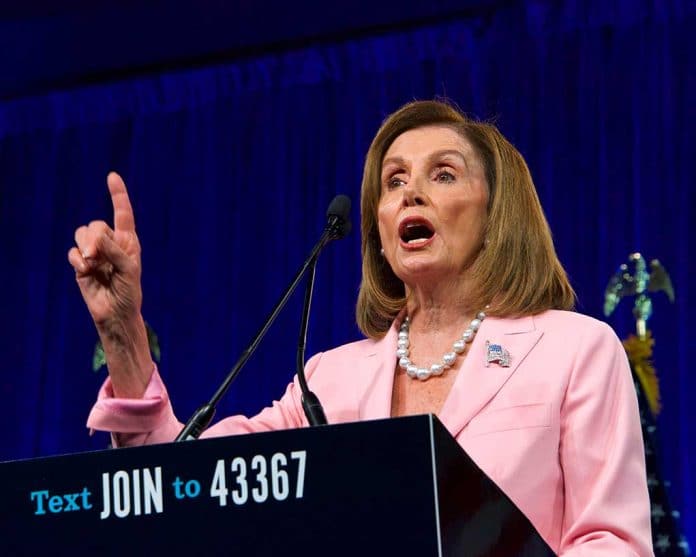 (RepublicanDaily.org) – House Speaker Nancy Pelosi (D-CA) often seems obsessed with investigating the January 6 Capitol incident. She claims it's "serious" and that failing to do so will somehow endanger the Constitution. But is that really what the American people want? A new poll from Rasmussen and the National Police Association reveals the surprising truth.
What Do Americans Really Want?
Democrats, and to a larger degree, the Left as a whole, have consistently attempted to control the narrative around the Capitol Hill incident for months now. Many are convinced the government must investigate the protests.
Rasmussen's poll shows this probably isn't a fair representation of all American voices. It asked just under 1,000 voters a variety of questions to identify where they stand on government actions in response to incidents within the last year. This includes Pelosi's January 6 committee as well as the 2020 BLM riots.
A majority of respondents (66%) feel more strongly about congress investigating violence at Antifa and BLM-backed events. In contrast, nearly half (42%) of all voters said they do not support Pelosi's January 6 committee.
Interestingly, support for investigating social justice riots remained relatively consistent across the board, regardless of race or political affiliation. Admittedly, the strongest endorsement did come from Republicans (75%), but those falling into other categories voted similarly at an average rate of 63%.
Little Support for Pelosi's Witch Hunt
These results draw attention to an important fact Republicans have been attempting to bring into the spotlight since at least February. Far more Americans want Congress to focus on last year's riots rather than Nancy Pelosi's hotly debated committee. Opinions aside, the numbers do not lie.
But despite the poll, the Speaker seems more interested in furthering her own agenda than meeting the people's demands. At the very least, she continues to push it regardless of what anyone outside her circle thinks.
An illustration of this played out in the House on July 21. Despite Minority Leader Kevin McCarthy's (R-CA) attempts to work with the Speaker by providing her with five picks for the committee, Pelosi refused to cooperate. She rejected two of the suggestions entirely: Jim Banks (R-IN) and Jim Jordan (R-OH), calling them "ridiculous."
McCarthy responded by pulling all five picks out of the process altogether. He also accused her of "…destroying the House of Representatives" and refusing to "faithfully represent the people [they] are here to serve." The Minority Leader also put forth a motion to have her removed from her seat for refusing to listen to Republican voices.
Copyright 2021, RepublicanDaily.org