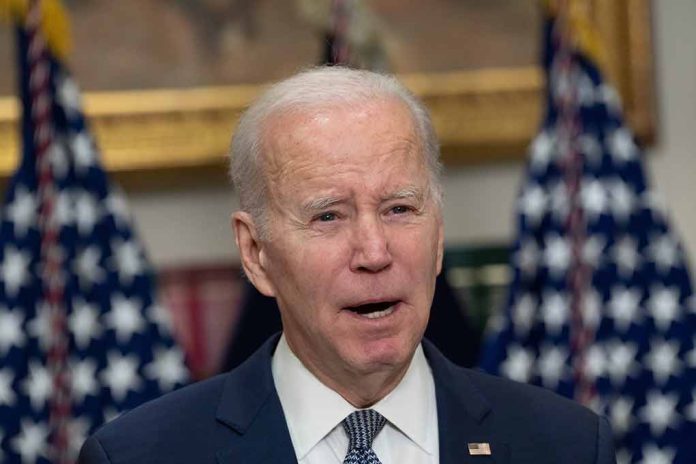 (RepublicanDaily.org) – After struggling to say an acronym during a speech at the White House, President Joe Biden just gave up on saying it altogether, and decided to pass off the verbal fumble as a joke.
"We call it the P, PI —", Biden said, after just saying the full name of the project, the Pacific Islands Initiative, a second ago. The president had just announced that the White House was working with Congress to secure $40 billion for the project.
"Anyways, doesn't matter what we call it but that's what it is," Biden said, when he realized he could not say the word.
The president's camp has long reminded the public that Biden has had a speech impediment, or a stutter, since childhood, a recurring issue that has lessened over time, but still rises to the surface occasionally. However, Biden's many gaffes in recent years have given a significant number of voters (including liberal ones) second thoughts on whether Biden is fit enough to do another four years in the White House. One such example from the same event was when the president made the claim at both he and Cook Islands Mark Brown were from Baltimore – which was a strange thing to say given that neither of them are from Baltimore.
Biden was born in Scranton, Pennsylvania, and studied at the University of Delaware, while Brown has entirely no connection to Baltimore and was born, raised, and educated in the Pacific Islands.
Recent polls have revealed – along with sagging approval ratings – that the president's age is a major factor voters, Democrats included, will be considering come election time. A recent poll by CNN shows that more than half of Democratic voters believe that the president's "current level of physical and mental competence" is already compromised due to this age, and only a small percentage of left-leaning voters – or 33% – say that they would be okay with another four years of a Biden-run government. However, the greater majority of Democrats, or 67%, say that they want the party to nominate someone else for president.
Copyright 2023, RepublicanDaily.org